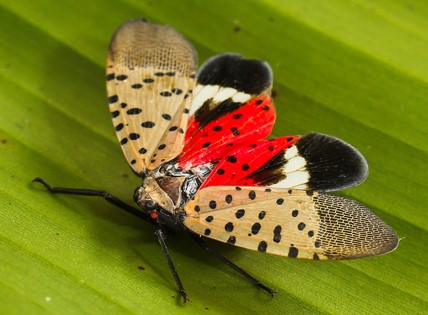 PROTECT YOUR TREES
AND SHRUBS
It's not too late to protect your trees from this destructive, invasive pest!
The Spotted Lanternfly Infestation:
What It Is and How to Fight It
ABOUT SPOTTED LANTERNFLIES
What is a spotted lanternfly?
The Spotted Lanternfly (Lycorma delicatula) was first detected in Pennsylvania in September 2014. It feeds voraciously on a wide range of fruit, ornamental, and woody trees and shrubs. Spotted lanternflies are an invasive species and if allowed to spread in the United States, this pest will cause serious harm to the country's landscaping, fruit orchard, and logging industries. Spotted lanternflies can't fly long distances, but they attach themselves to travelers and vehicles to spread more quickly into new regions.
Where did spotted lanternflies come from?
The spotted lanternfly is believed to have been transported into the U.S. on a stone shipment from China in 2012. Because they aren't native to North America, they have few natural predators here and are spreading unchecked throughout the northeast.
Are spotted lanternflies dangerous?
Spotted lanternflies aren't dangerous to humans or pets — they don't bite or sting and they aren't venomous. But they do pose a serious risk to agriculture.
What attracts spotted lanternflies?
Spotted lanternflies are primarily attracted to Ailanthus (Tree of Heaven) plants, but they also attack rose bushes, grape vines, walnut, birch, willow, and maple trees. They are known to infest and attack 56 plant species in North America.
How to get rid of spotted lanternfly swarms
In summer and fall, spotted lanternflies can gather in large numbers around trees, poles, sidewalks, houses, and buildings. Anyone who has tried to eliminate these pests knows that once spotted lanternflies establish themselves in an area, they are difficult to combat. Therefore, if you find spotted lanternflies around your home, we recommend killing them immediately to keep them from spreading.
The experts at Reaching Higher have many years of experience and know how to get rid of spotted lanternfly swarms quickly and efficiently.
How to kill spotted lanternflies
There are two potential solutions for dealing with spotted lanternflies on your property: either by physically destroying the lanternflies in whatever life stage you find them (swatting nymphs and adults, scraping away egg sacks and crushing them) or by immediate removal with an approved insecticide.
Spotted Lanternfly Treatment from Reaching Higher
PROTECT YOUR TREES – JOIN THE FIGHT
Reaching Higher is your one-stop solution to the lanternfly invasion. Let our team of Tree Health Experts take action to eliminate this destructive pest from your life and property by stopping it before you're infested.
Contact us now to take immediate action before more damage is done. Let our Team of Plant Health Care Experts intervene to break their lifecycle and stop them now, to prevent future damage.
Request a Consultation for our Spotted Lanternfly Treatment
Spotted Lanternfly
Lifecycle
Beginning in early fall the adult lanternfly lays its eggs on tree bark, in nooks and crannies on buildings, on outdoor gear (lawnmowers, grills, etc), and on vehicles.
Spotted lanternfly egg sacks are about an inch long and look like a smear of mud. If found in an infested area, residents should crush them and scrape them off.

October-June–eggs
May-June–b&w nymphs
June-August–red nymphs
July-December–adults
Contact us now to take immediate action before more damage is done. Let our Plant Health Care Team intervene to break the invader lifecycle and stop them now, to prevent future damage.