Storm Damage Cleanup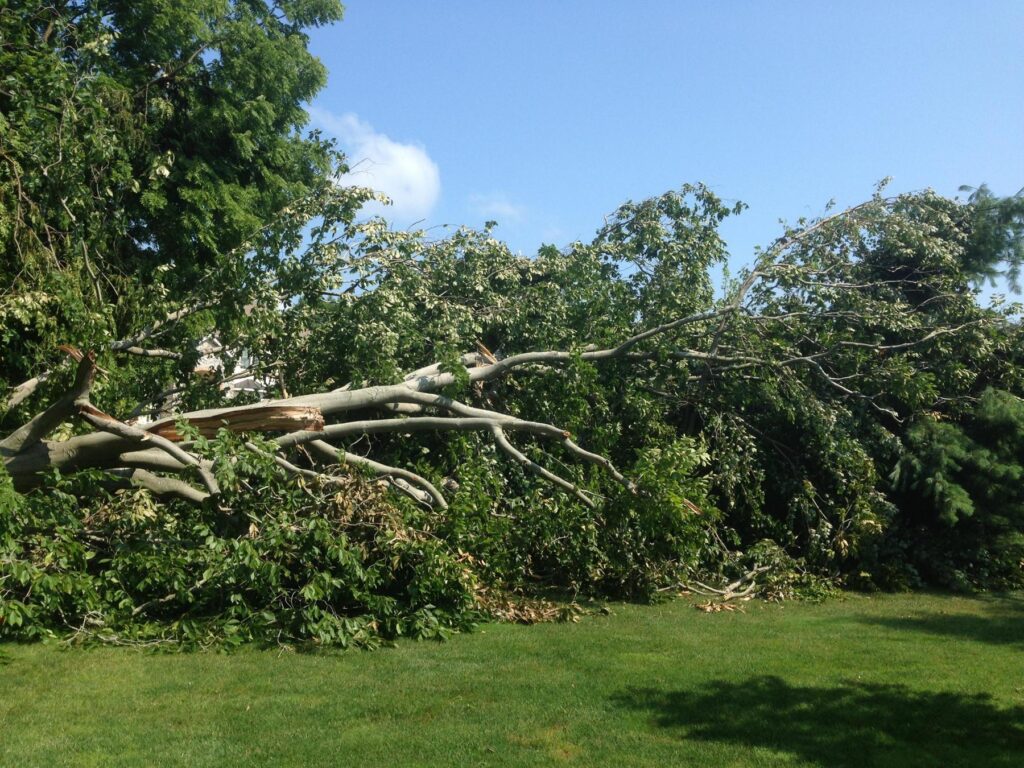 Tree removal services, branch and debris removal, and more
Strong winds, heavy rain, snow, and ice are all hard on trees. A big storm can blow down branches, splinter a trunk, or even uproot an entire tree. If you are experiencing storm damage, you know that prompt tree and branch removal are critical. Reaching Higher offers complete storm damage cleanup in Lancaster and Chester county — including 24/7 emergency tree removal services.
Why is storm damage cleanup important?
While storms are known to cause entire trees to fall, they can also weaken your trees' branches and cause roots to become waterlogged or severed. All of these things endanger the safety of your property and family.
Contact us for a free onsite estimate. Our tree experts will assess the damage and, if possible, put together a plan to restore the damaged tree to health and beauty. If restoration is not possible, we will remove the storm-damaged tree.
Is it safe to clean up after a storm yourself?
While we encourage you to assess any damage a storm has caused to your property, tree and branch cleanup is often too significant and dangerous to handle by someone other than a trained professional. Even smaller and lighter levels of debris can take days or weeks to clear on your own. At Reaching Higher, we have the skills and specialized equipment to clear your property quickly, thoroughly, and safely.
What is included in storm damage tree removal services?
Our services include the following:
We will promptly send someone to your property to assess any storm damage.
Our skilled arborists will identify any weak limbs. Additionally, we will locate all the downed branches, limbs, and/or trees resulting from the aftermath of the storm.
After we complete our inspection, we will schedule a time to promptly return and perform the storm damage cleanup. We also offer same-day emergency services, depending on the situation.
We will utilize professional equipment to remove damaged sections of your tree as well as clear your property of tree and other debris.
We will also inspect your remaining trees for potential health issues and recommend appropriate treatment. For example, we may find a tree in need of pruning or other tree health care services. We want to help your trees stay healthy and strong, minimizing future damage.
What make Reaching Higher Different?
Reaching Higher has been providing expert storm damage cleanup and other tree services to Chester County and Lancaster County residents for over 16 years. We have a high level of knowledge and experience in everything from tree removal to tree trimming and stump grinding services.
We do more than trim and remove damaged branches and downed limbs: We also completely remove any debris the storm left behind.
We act fast. We can usually send someone to your residence to complete an assessment on the same or next day.
We offer free on-site estimates.
You can count on us for courteous, professional service.
Our staff is thoroughly trained in the procedures and equipment we utilize. Your safety is our priority.
We are proud to have a stellar Google rating from our customers.
Storm Damage Cleanup in Lancaster and Chester County
Reaching Higher knows the frequency of severe storms in Lancaster and Chester counties. Our professional team has years of experience in storm damage tree and branch removal services.