Ready To Climb To New Heights In Your Career?
Reaching Higher, LLC is a growing tree service company seeking experienced Tree Climbers to perform tree service work and to lead a crew. We are specialists in large and limited access removals so if you like heights you'll enjoy working here!
Job Description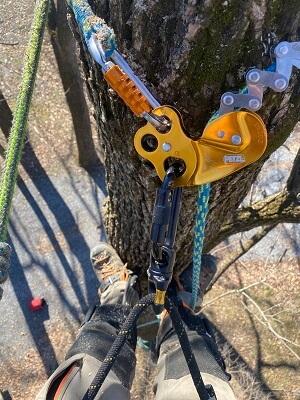 We're looking for professionals willing to learn and perform tree climbing work using a chainsaw, pole saw, chipper, stump grinder, and other heavy machinery.
Do you enjoy helping customers with their properties by clearing, removing, and pruning trees? Have an interest in leading a crew? This position is ideal for someone who is eager to play a part in a growing company where we not only value your skills as a tree climber and arborist, but also want you to help play a part in the future of the business.
Tree Climber Qualifications
At least 1 year experience Climbing Trees
Experience with removals and spurless pruning required
Experience with ropes, rigging and safety standards appropriate to the job
Must have a valid Pennsylvania driver's license
Must pass a company short working interview on equipment usage
Must complete or clearly demonstrate Tree Climber Apprentice test and certifications
Must be willing and able to work in all outdoor weather conditions all year round
Must be willing and able to work 40 hours or more per week when requested
Certified Arborist Credentials would be "nice to have"
Experience with crane assisted removals is a plus
Additional Benefits
On top of highly competitive pay and benefits, you'll also get:
Quarterly Gear Allowance
Monthly "Pay per Performance" bonus plan
Opportunities to be involved in business growth
If you feel this is a position you would be interested in, please contact us with resume and compensation requirements.
We aren't just looking for another climber to work for the company, we are looking for a team member who wants to push the company onward and upward while quickly advancing his own career. This would be a great opportunity for one who prefers the stability of working for one company, but still wants the freedom and authority of managing a crew (and down the road, potentially the day to day operations).
Apply today by calling 717-502-4707 or sending your resume by email to [email protected].
Still searching? Check out our other tree care jobs here.